Kings Outdoor Property Solutions is a full-service landscape contractor based in Guelph, Ontario.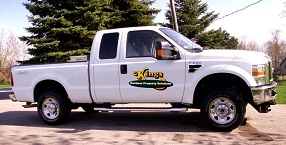 Kings Outdoor Property Solutions is a family owned and operated business, operating since 2004. We are pleased to announce that we are still servicing over 95% of our original customers. With over 25 years of combined experience, knowledge and dedication, we have grown but are still providing the same personal, small business quality that has made us who we are.
Bob King's (Owner and service provider) farming background brings great knowledge to the implementation of all of the landscape projects that Kings Outdoor is involved with.
Charlene King brings a great deal of knowledge and experience to planning the gardens for Kings Outdoor's customers.  With an eye for detail and plant / tree organization, she can plan your dream garden or simply add that finishing touch to your existing gardens.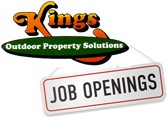 Kings Outdoor Property Solutions is a family run business that has been operating in the Guelph, Cambridge and Kitchener / Waterloo areas for over 8 years. We are currently expanding our operations and are looking for a few key individuals to help us grow.
We are seeking an experienced Landscape Labourer
Position:  Landscape Labourer
Required: 1 permanent full time and 2 seasonal part time
Salary: $11.00 - $15.00 / hour
Start Date: ASAP
Location: Guelph
Experience – 1-2 years required
Work Setting: Landscape maintenance, commercial establishments and public
Type of Machinery: Tractor mower, weed trimmer / edger, pick up truck, small engine equipment
Specific Skills: Weed, prune and trim trees and plants, cut grass, rake, collection and removal of litter and garbage, lay sod and seed, plant flowers, shrubs and trees.   Must be able to problem solve and learn continuously.  Drivers license required.
Work Conditions and Physical Capabilities: Fast paced environment, work under pressure, tight deadlines, repetitive tasks, handling heavy loads, physically demanding,  attention to detail. 
**Combination of sitting, standing, walking, bending, crouching and kneeling.
Work site environment: Outdoors, Hot, Wet / Damp, Dusty
Transportation to and from work: must have own transportation.
Work location: Various
Send resume to info@kingsops.com  *Please put "Landscape Labourer position" in subject line.
Or fax to 1-519-824-3378